We're Getting Mutants in the MCU - The Loop
Play Sound
The 28-hour day is a semi-serious concept of personal time management where an organization or individual lives by a 28-hour long schedule with exactly six such cycles within a standard 7-day week of 168 hours, since 6 × 28 = 7 × 24. It was made popular in an issue of the XKCD comic by Randall Munroe.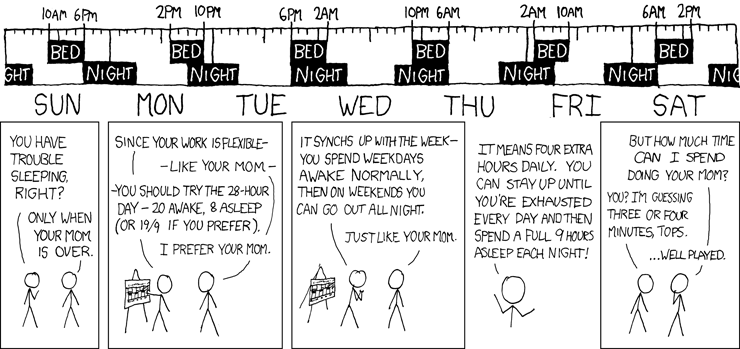 The plan suggests a sleep cycle of 19 to 20 hours awake followed by 8 to 9 hours asleep: 20/8 or 19/9.
For people who do not need more but less hours per sleeping cycle, the 21-hour day would be an alternative with eight cycles per week since 8 × 21 = 168 as well.
Overview of 21-, 24- and 28-hour days within a standard week
Weekday
Monday
Tuesday
Wednesday
Thursday
Friday
Saturday
Sunday
Hour
00
01
02
03
04
05
06
07
08
09
10
11
12
13
14
15
16
17
18
19
20
21
22
23
00
01
02
03
04
05
06
07
08
09
10
11
12
13
14
15
16
17
18
19
20
21
22
23
00
01
02
03
04
05
06
07
08
09
10
11
12
13
14
15
16
17
18
19
20
21
22
23
00
01
02
03
04
05
06
07
08
09
10
11
12
13
14
15
16
17
18
19
20
21
22
23
00
01
02
03
04
05
06
07
08
09
10
11
12
13
14
15
16
17
18
19
20
21
22
23
00
01
02
03
04
05
06
07
08
09
10
11
12
13
14
15
16
17
18
19
20
21
22
23
00
01
02
03
04
05
06
07
08
09
10
11
12
13
14
15
16
17
18
19
20
21
22
23
Nominal light
darkness
daylight
darkness
daylight
darkness
daylight
darkness
daylight
darkness
daylight
darkness
daylight
darkness
daylight
darkness
16:8
asleep
awake
asleep
awake
asleep
awake
asleep
awake
asleep
awake
asleep
awake
asleep
awake
asleep
20:8
awake
asleep
awake
asleep
awake
asleep
awake
asleep
awake
asleep
awake
asleep
awake
19:9
awake
asleep
awake
asleep
awake
asleep
awake
asleep
awake
asleep
awake
asleep
awake
15:6
awake
asleep
awake
asleep
awake
asleep
awake
asleep
awake
asleep
awake
asleep
awake
asleep
awake
See also
[
]